On my BFF's 21st birthday, a large group of us went to a male strip club to celebrate (wink, wink, nudge, nudge). A very good time was had by all. We oohed. We aahed. We gave away a lot of dollar bills.
What we didn't know was that the piece de resistance, the icing on the cake, the show stopper had yet to begin. The very last act, the one that brought down the house, rocked us to our cores. When the soundtrack to the movie An Officer and A Gentlemen began, the room went silent.
Even now, almost fifteen years later, my heart is doing back flips.
Three of the world's finest men came strolling down the runway in military uniforms. And the women went WILD. I should say that I don't know if the men were good looking. Heck, they could have been fugly. They could have drooled or not been capable of walking and chewing gum at the same time. It didn't matter. They wore the uniform. They had the stance. They exuded an aura of we're in effin' charge around here. And we ate it up.
When I sat down to write my first novella, SOLDIER, you can believe that night at the strip club was in my mind. When my heroine Anna finds a military man naked and unconcious on her front lawn, at least she has the common sense to behave a little better than we did that night.
Well, barely.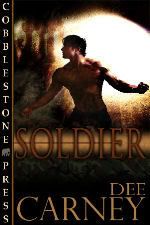 Find out more about how one night at the club inspired this story by picking up your copy of SOLDIER from Cobblestone Press.
Hugs,
Dee